City Mission Trip Graphics
Olympic & Kitsap Peninsulas Postcard 
My Contributions
Developed color scheme for both infographic and map. Created icons, laid out infographic, and formatted charts. Adhered to typography style developed by CAI supervisor (2017).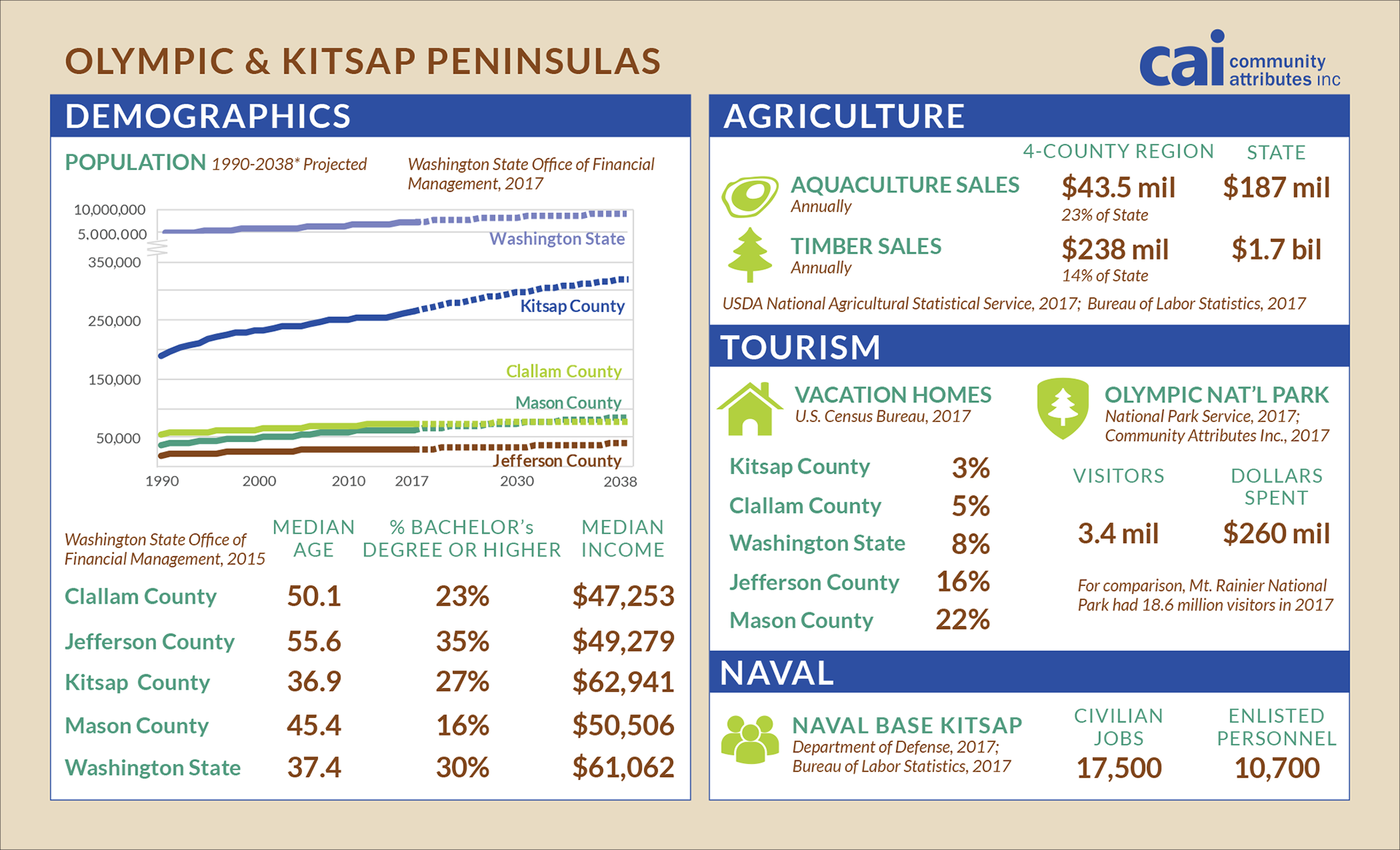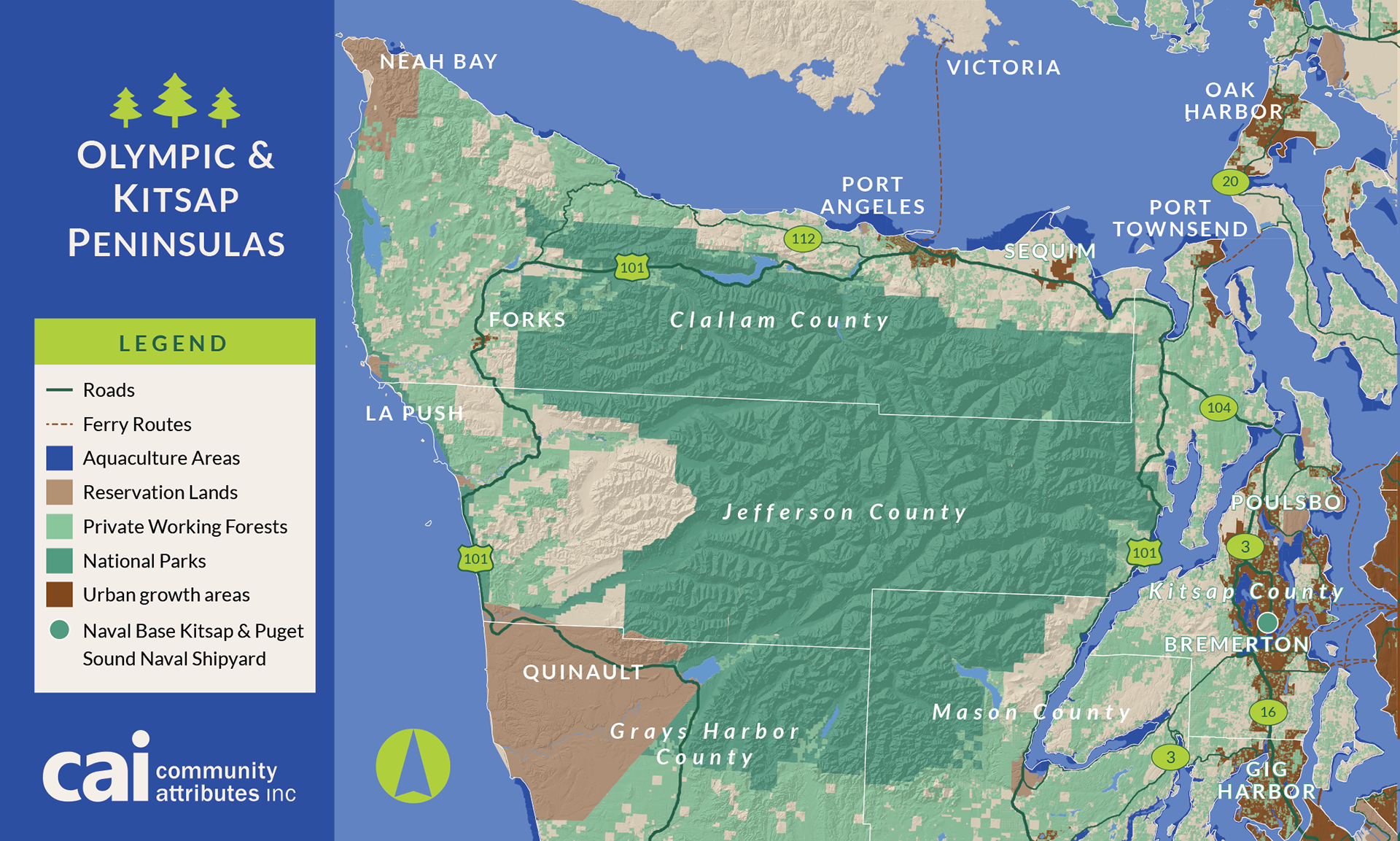 San Francisco & Seattle Booklet Insert
Printed at 8" x 7"
Developed color scheme for both infographic and map.  Designed charts, created icons, and laid out infographic. Adhered to typography style developed by CAI supervisor (2017).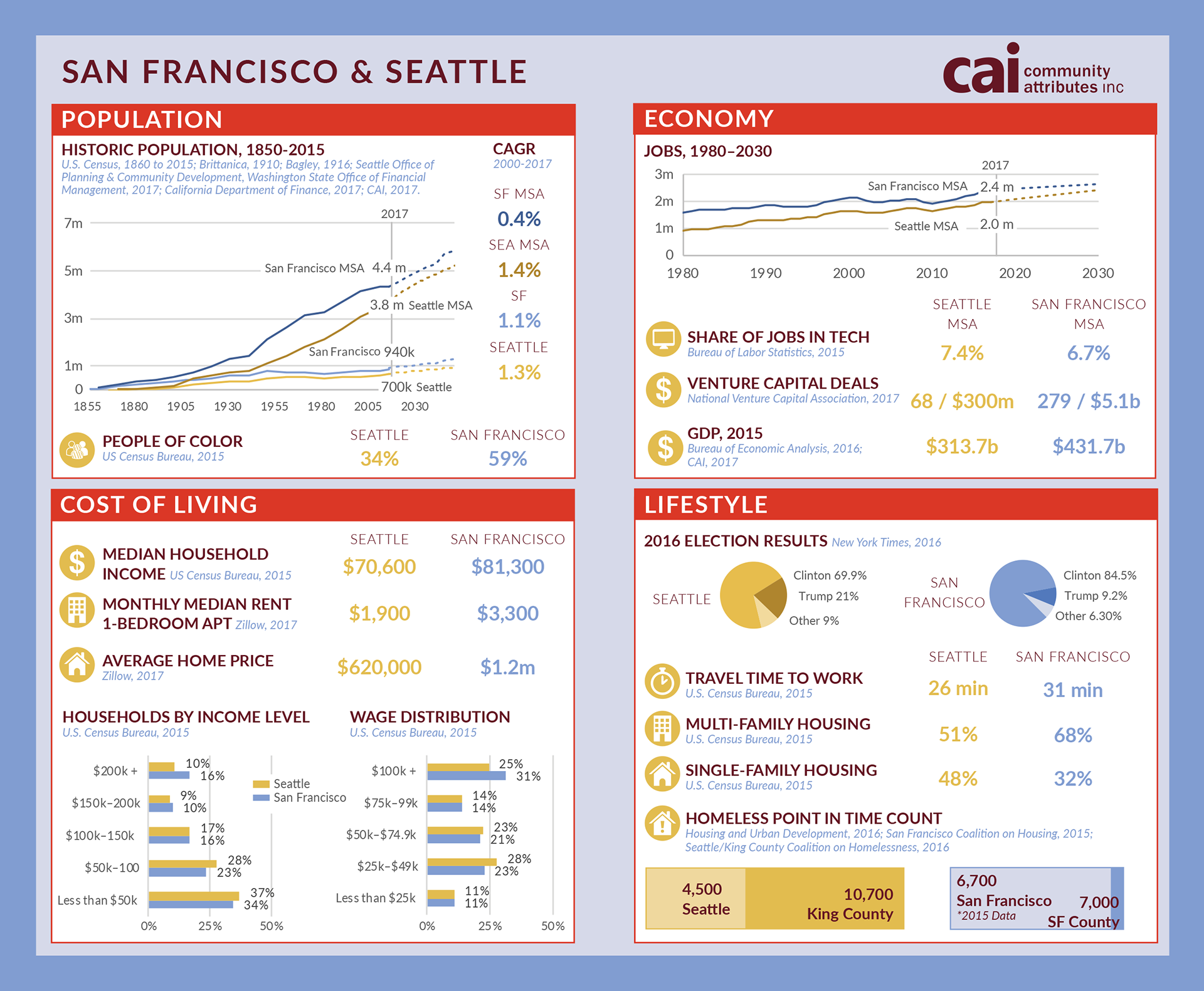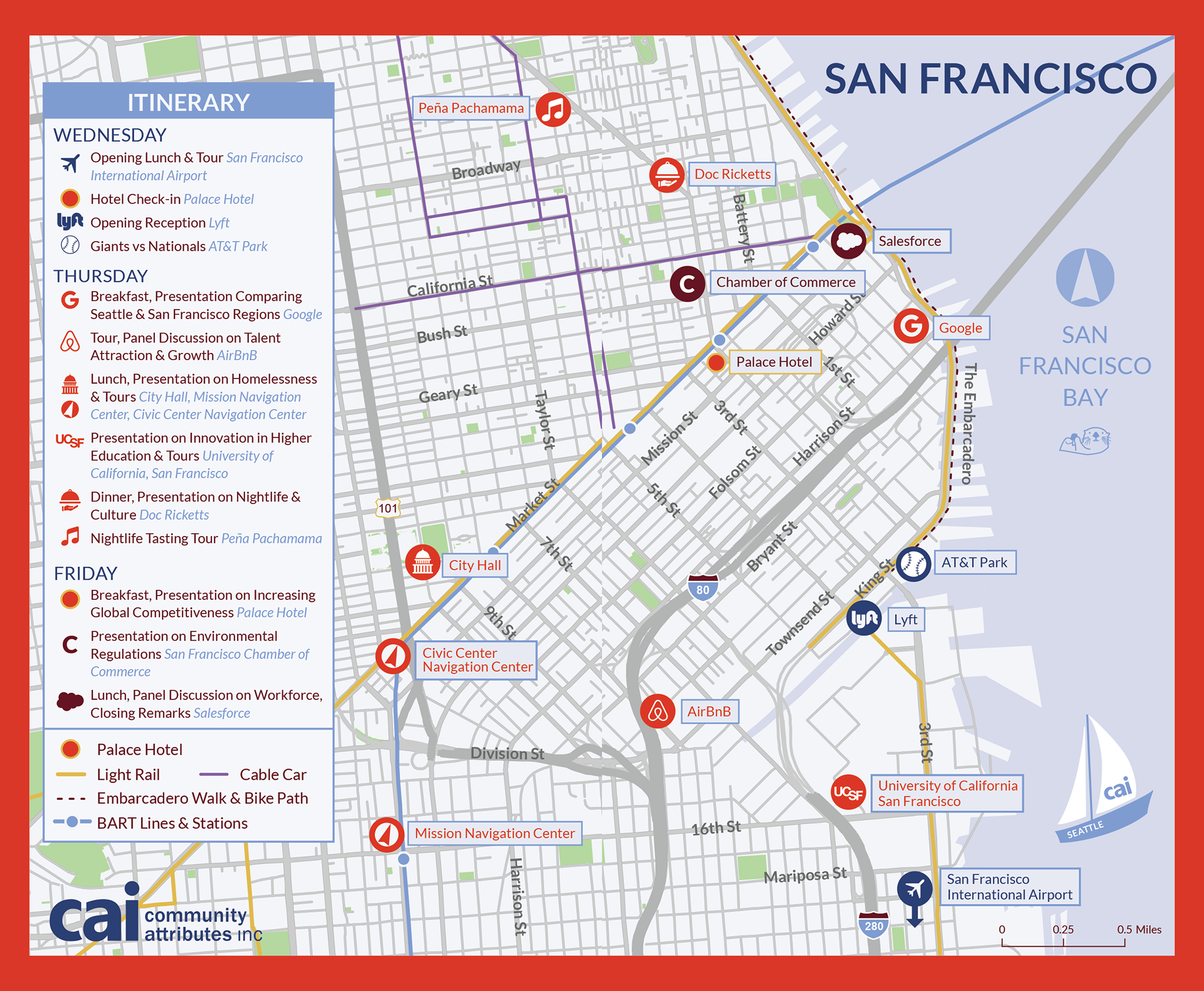 Performance Metrics Dashboard
Washington Wine Commission
This interactive data dashboard tracks the Washington wine industry's performance within different markets. Actual dashboard site contains sensitive information and is for Wine Commission use only. The mock up provided below does not reflect any of the actual numbers featured on the site (2016). 
Created wire frames of the site organization, incorporated Washington Wine Commission branding, selected a custom color palette, designed and selected custom icons, designed full-color static mock ups (including actual data before development). Worked directly with developer to produce assets and ensure quality final product.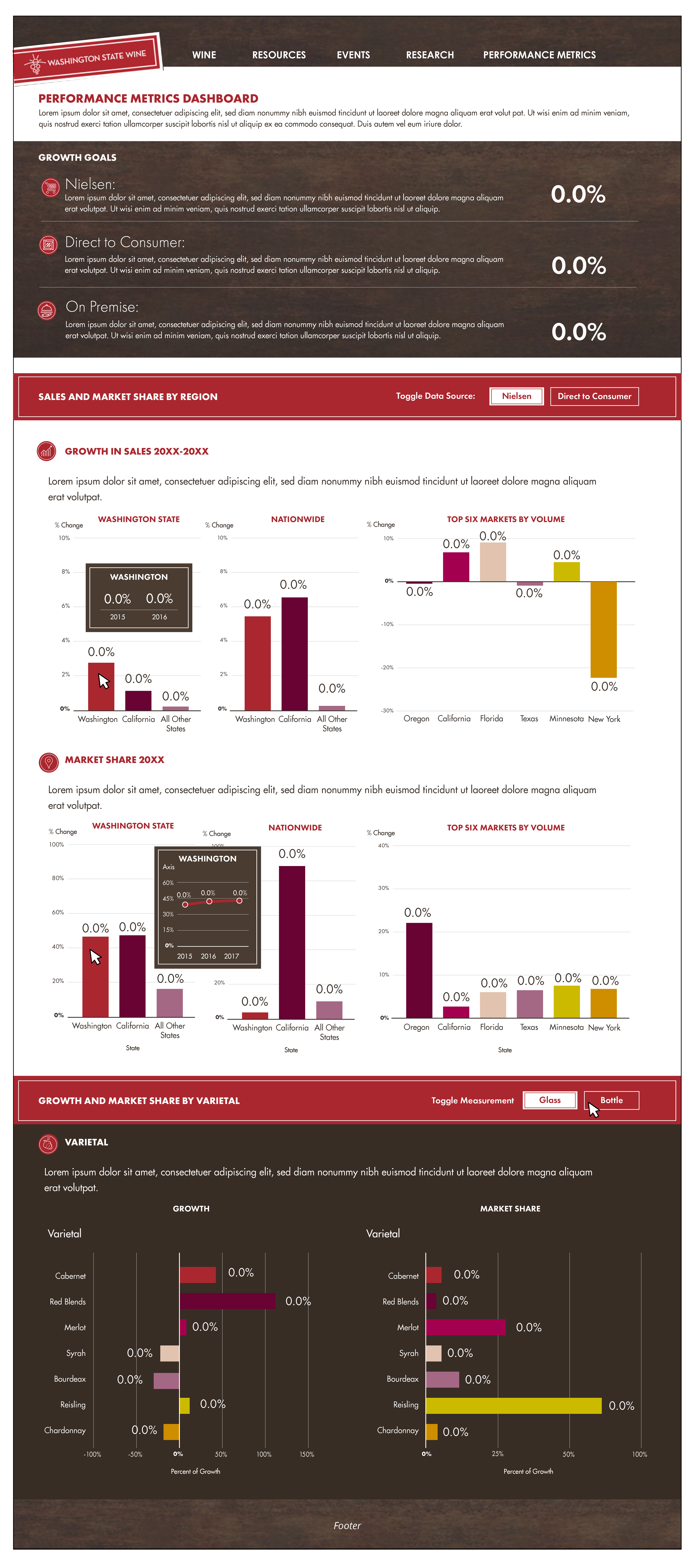 Economic Impact Infographics
Port of Seattle, Sea-Tac International Airport
This set of infographics features the economic impacts of the Seattle-Tacoma International Airport on six nearby cities. All six infographics were included as part of a larger report of economic impacts (2017). 
Created template, laid out content on all infographics, set text, created & selected icons, integrated Port of Seattle color palette, styled charts, incorporated styling from full report layout.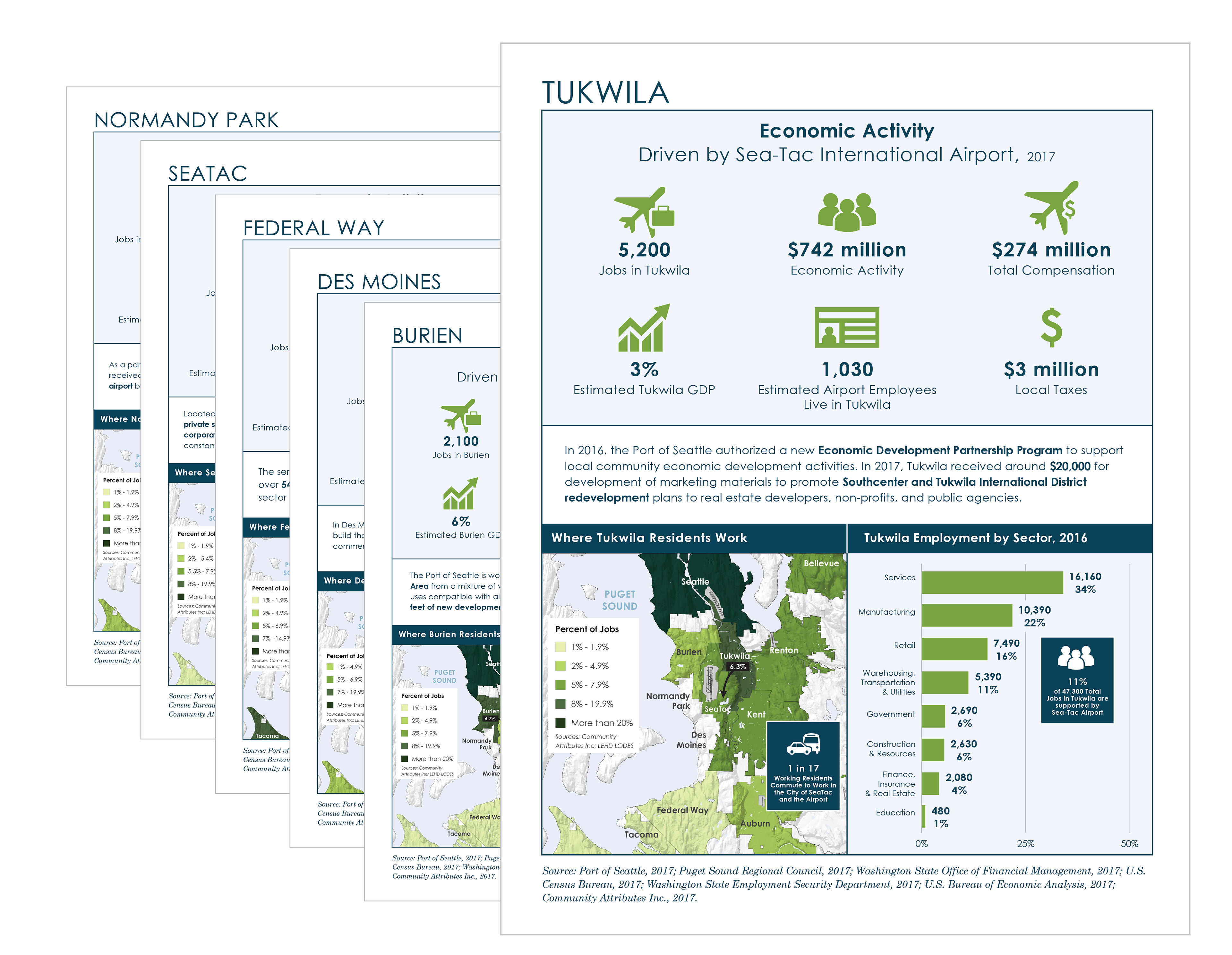 Annual Report Website Design
Seattle Office of Arts and Culture Annual Report, 2016
Community Attributes Inc has created online Annual Reports for the Seattle Office of Arts and Culture for the past three years. For the 2016 update, we leveraged the previous years' design for a fresh new look, and kept most of the site architecture the same.
Visit the 2016 Annual Report site
 (2017).
Took cues from previous year's landing page to wire frame and mock up new landing page. Incorporated art provided from the client. Created and exported assets for developers. Worked with developers to ensure designs were implemented accurately.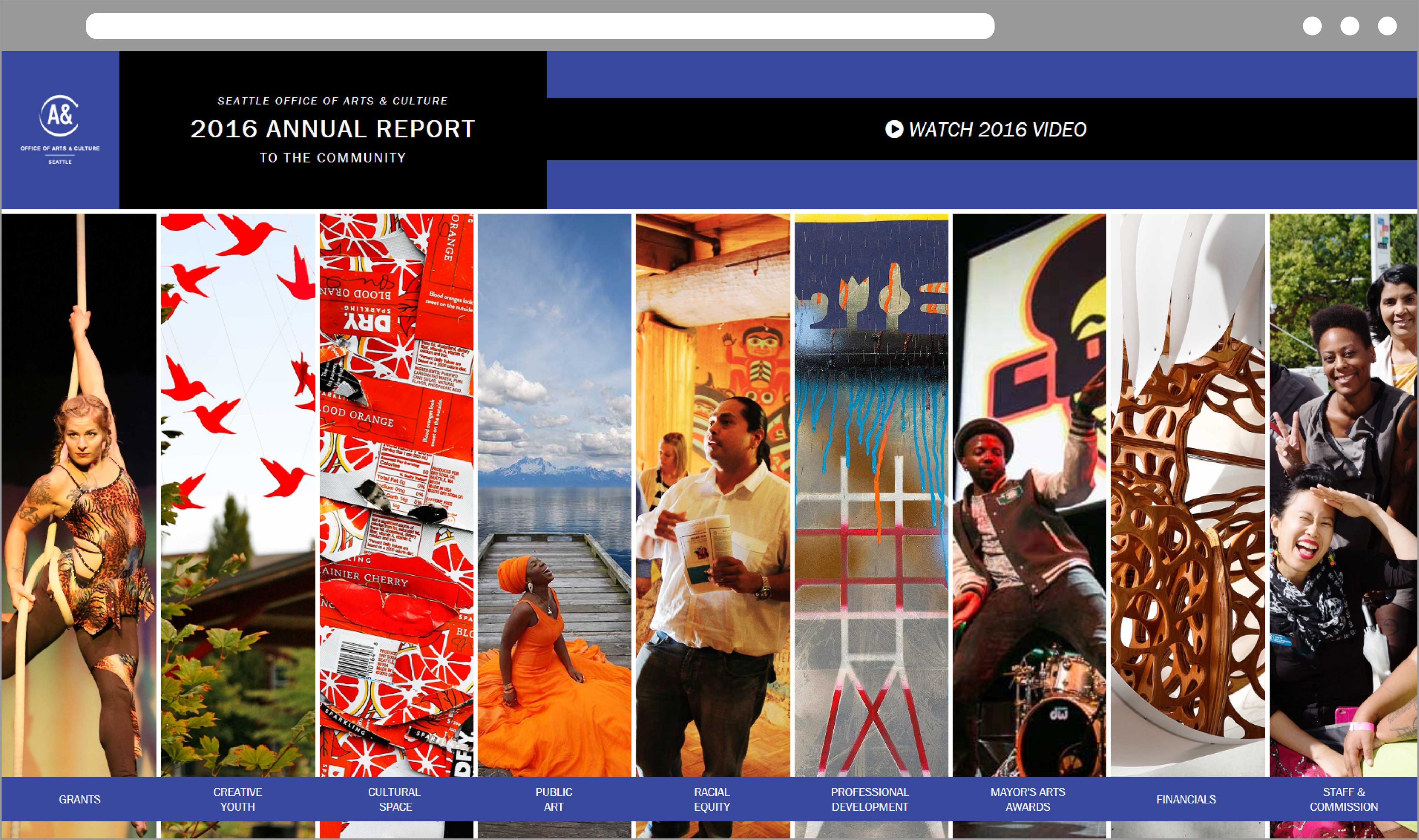 Report, Promotional Materials, Website Landing 
Washington Student Achievement Council "Ready Set Grad" Website Analysis
ReadySetGrad.org guides students, caretakers, educators, and counselors, as they develop pre and post-college plans. For this report, we surveyed caretakers, students and teachers about their experience with the site. This infographic summarizes CAI's findings and recommendations from our user testing analysis of the website, and was incorporated into the full report. We pulled the color scheme and blocky aesthetic from the Ready Set Grad site and incorporated our signature CAI iconography (2016). 
Summary infographic: participated in writing of content, creation of diagrams, laid out content, incorporated Ready Set Grad website styling, created custom icons, and set all type. Promotional materials: created ten custom social media headers (Facebook, Twitter) that the client shared to generate survey responses. Survey website landing: incorporated the same header and graphic styling, laid out text, worked directly with developer to incorporate designs into landing site.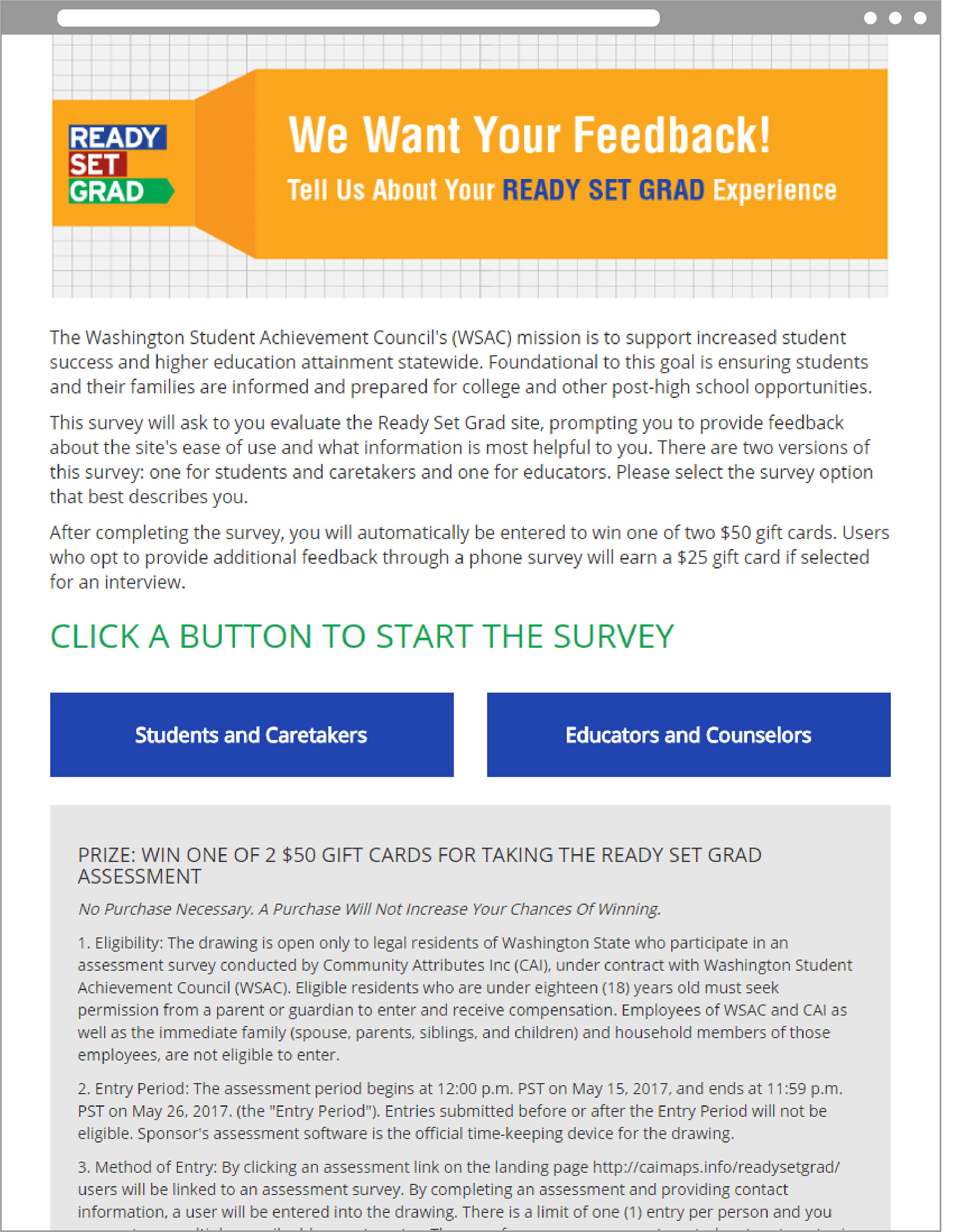 Global Washington "By the Numbers" 
Global Washington supports the global development community in Washington state that is working to create a healthier and more equitable world. In this infographic, we highlight the key findings from Community Attributes's study of GlobalWA's economic impacts. To create the visual language of this infographic, we incorporated Global Washington branding elements, and separated data into different categories for hierarchy and clarity (2017).
Laid out content, incorporated styling the styling created for our full Economic report for Global WA , created custom icons, set all type, and styled charts. This work was overseen by Senior Economics Analyst Michaela Jellicoe and President & CEO Chris Mefford.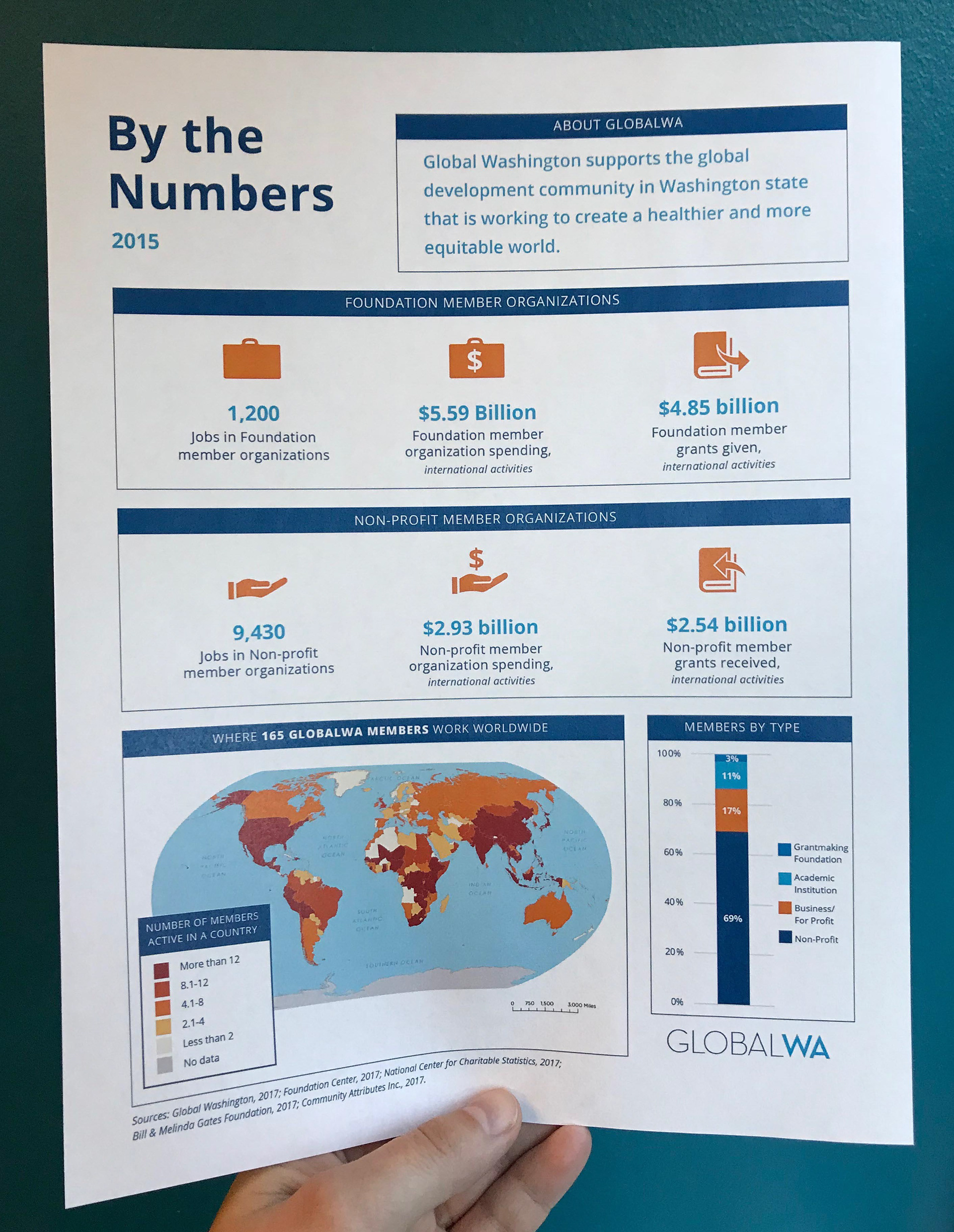 Economic Impact Special Olympics
This impact sheet was created as a promotional material for the 2018 Special Olympics Games, hosted in Seattle. (2017)
Laid out content, incorporated Special Olympics branding & photography, created custom icons, and set all type.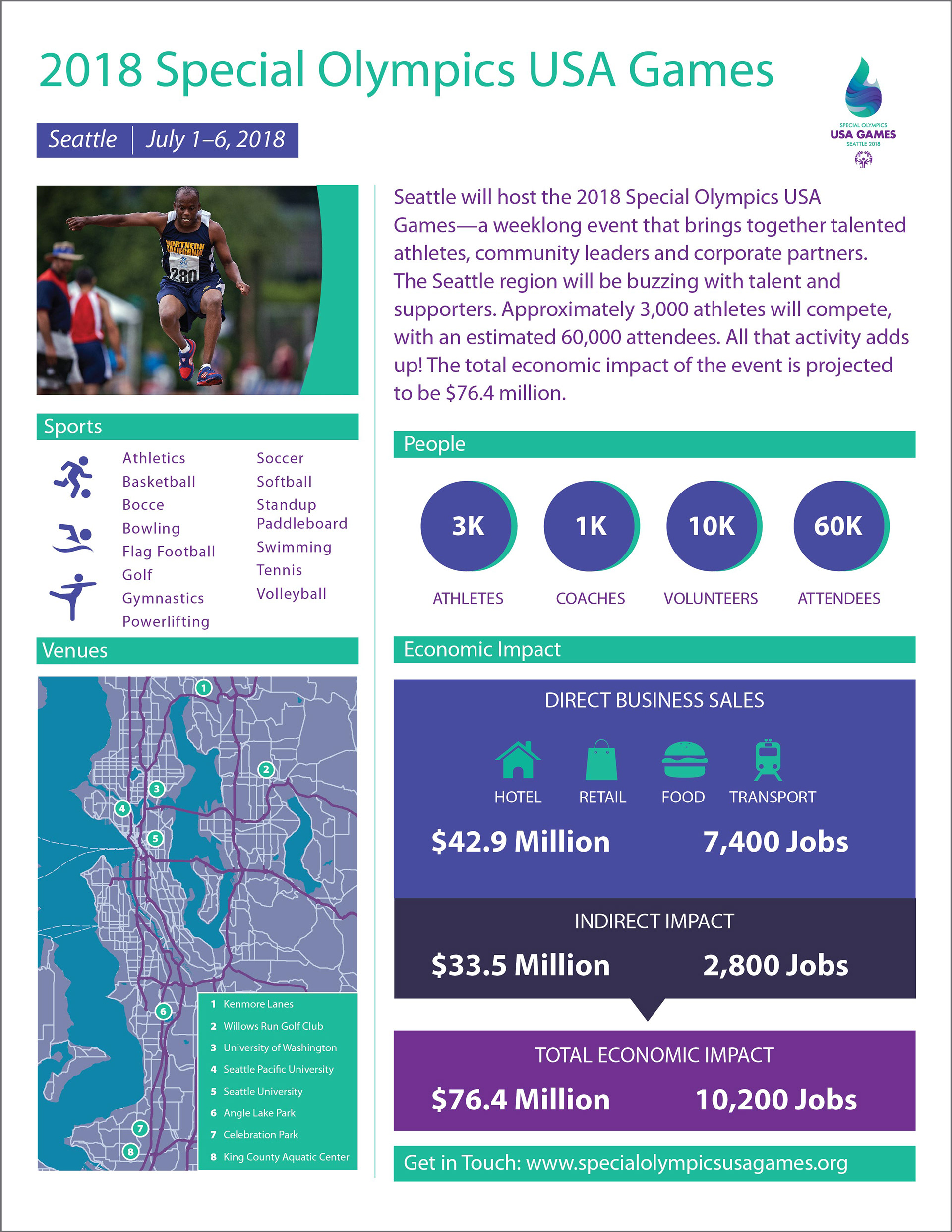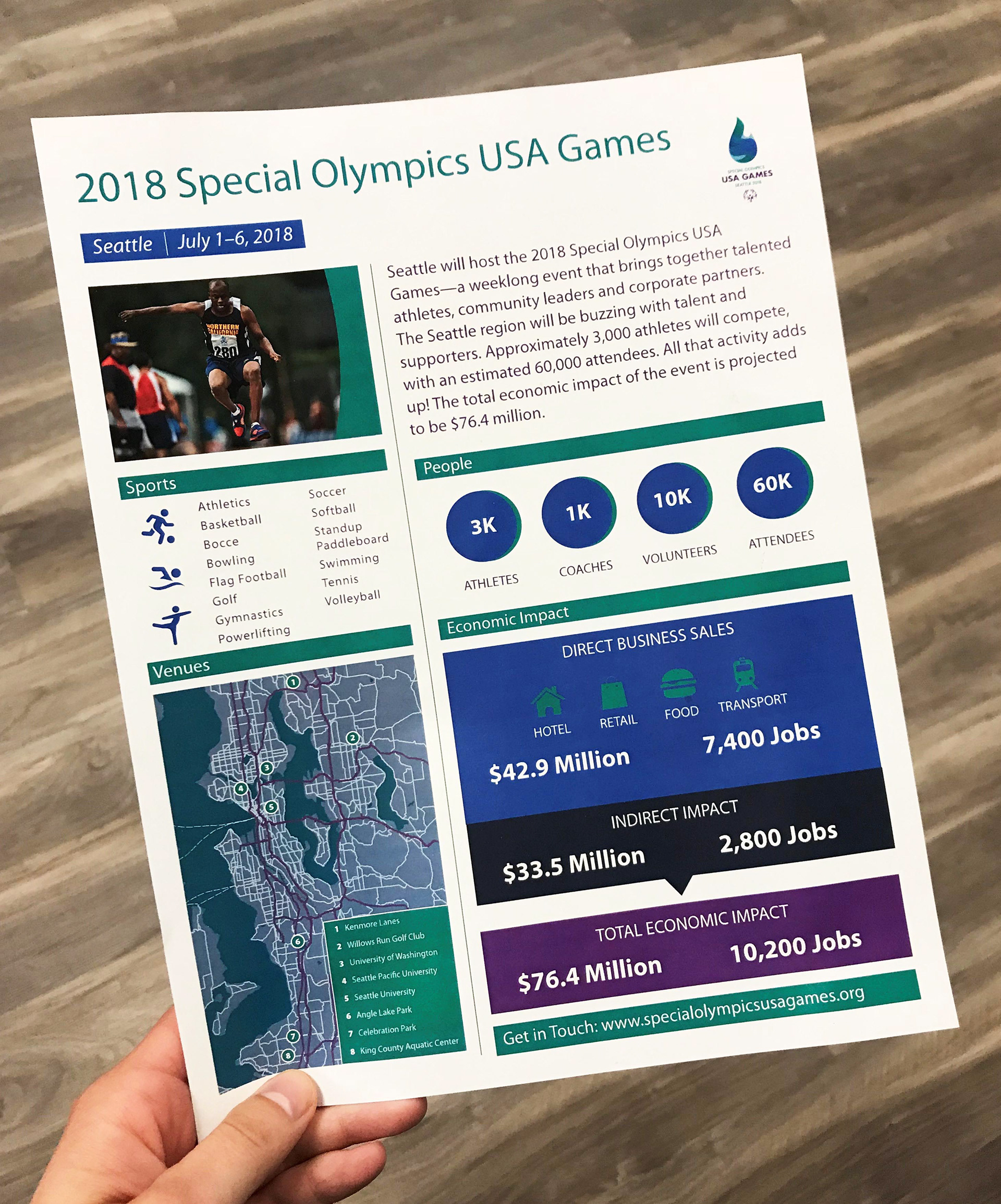 Community Engagement
San Juan County Comprehensive Plan Update
In partnership with Studio Cascade, my firm CAI provided planning and economic analyses to support the 2018 Comprehensive Plan Update. The work included extensive community outreach and an update of the county's adopted vision, as well as robust data analysis to assess the economic viability of resource land practices--including agriculture, forestry and mining--on the islands. The project resulted in goal and policy recommendations for staff to consider during the update process (2017).
Traveled to the San Juan Islands for three days to engage in community outreach on three different islands. Engaged with community members during daytime studio pop-ups and evening workshops, including guiding through activities, asking probing questions and listening actively. Aided in set-up and tear down for pop-ups and workshops. Summarized notes from conversations with community members into key themes, to be used in full report.